March 21 - Pahala to Volcano



Mike takes in fluids on the climb to Volcano


Today's' climb up to Volcano Nat'l Park at 4000 ft went better than I had expected. The shoulder was smooth and wide, traffic light, and temperature moderate. We made it to the visitor center just before noon and the start of heavy rain, scoped out the art gallery, then checked into Aloha Junction B&B to warm up in their sauna. The other cyclists in Tim Kneeland's group were staying in the park and planned to bike to Hilo in the AM, while we had scheduled a layover day in Volcano.

March 22 - Volcano layover day

Unfortunately the day started out wet and gray, though we stuck by our plan to chose a hike and explore Volcano NP. We managed to ride part of the Crater Rim Road, hike down into Kiluea Iki Crater and back out, then retreat to the comfort of our B&B again, wet and cold. Both of us had picked up colds prior to the trip, so it felt good to put on the courtesy terry bathrobes, warm up in the sauna, and take long naps. As the stormy weather continued outside, we relaxed with a video movie, beer, popcorn, and ice cream in our room.


Hiking into Kiluea Iki crater in the rain.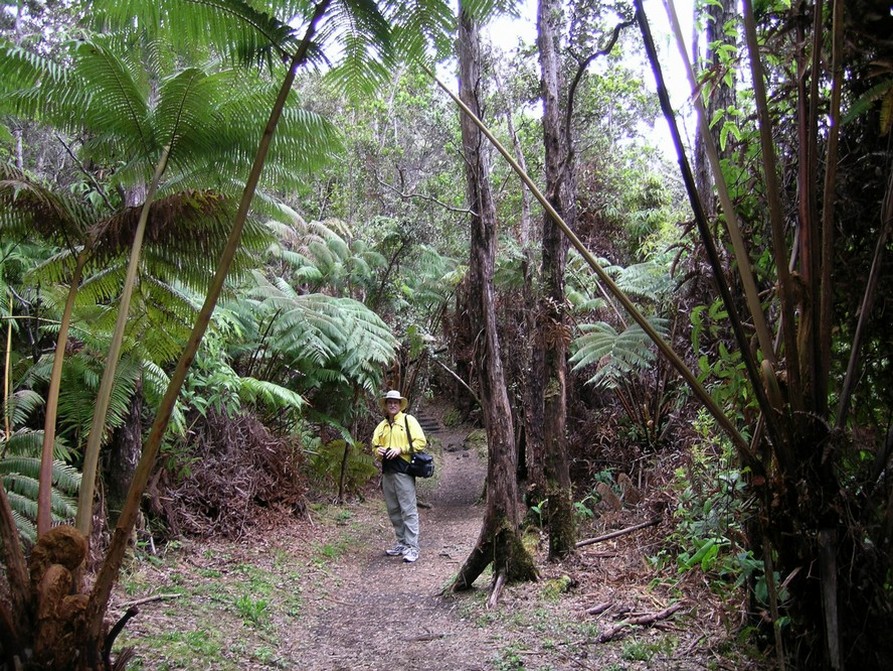 Heat from the crater floor creates rising "vog" (volcanic gas + fog).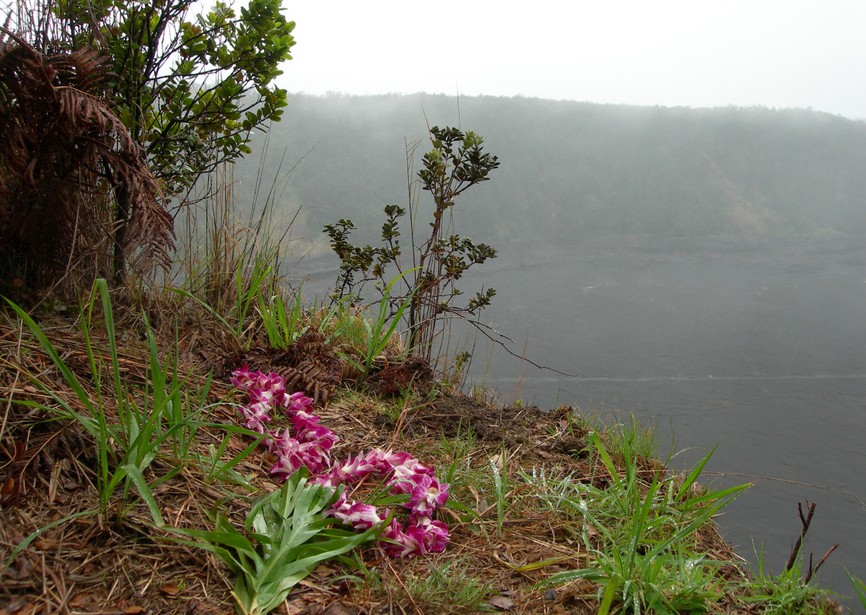 March 23 - Volcano to Hilo


For the second morning in a row, we enjoyed our B&B host's breakfast hospitality over fresh tropical fruit, pancakes, sausage, eggs, and as always, Kona coffee. We were joined by many other B&B guests from all over the U.S., making for great conversation.

When the sun came back out, we decided to bike the 15 mile Crater Rim Road that rain had cut short the day before. But once we were committed to this loop, the clouds rolled back in, the rain resumed, and the wind picked up. It felt good to finally hit the highway for Hilo and the warmth of sea level, 28 downhill miles or an average of 27 mph for the first 20 miles. As they say in Hawaiian when cruising downhill on a bicycle, "Waahuu!!"



Panorama of Kiluea crater with offerings to goddess Pele



Hilo, mean annual rainfall greater than 300 inches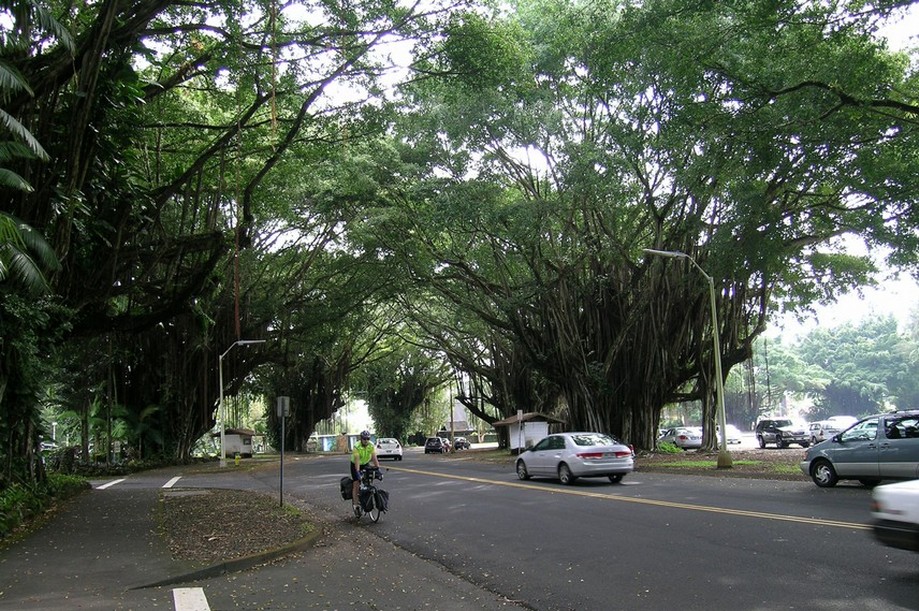 Just outside of Hilo, Mike stopped to fix another flat on his rear tire, while I volunteered to see if there was anything I might want at Baskin and Robbins 31 ice cream flavors. After checking into the Hilo Seaside Hotel, we explored Hilo on foot. Another drenching thundershower caught us on the way back from dinner, a few miles from our hotel. To escape the rain, we ducked into a miniMart and discovered to our consolation....Big Ed ice cream sandwiches. This is becoming a bicycle touring staple for us since we discovered them on our 2001 TransAm.

We reward ourselves for surviving another thundershower


We were pleased with our economic accommodations at the Hilo Seaside Hotel until we discovered why they were such a bargain. Our location was at the end of the Hilo airport runway. Every 15 minutes, there was a deafening jet engine roar, the room shook, and it sounded as if a large airliner was going to touch down on the hotel roof. This was followed predictably by Mike shaking his head and exclaiming "GEEZ!!. It would have been a very long night if the air traffic had continued like this.

March 24 - Hilo to Honokaa

We were glad to see the sun in the morning, but it was not long lived. Our destination was over 50 miles north up the rolling Hamakua Coast, where we noticed a pattern to the weather. Whenever there was a particularly scenic overlook or route (and there were many), the clouds rolled in to gray-out the photo op, but if the riding was uphill or potentially hot, the sun was back out to heat us up.



Sunny morning outside Hilo Seaside



Tropical fruit smoothies.


We reached Honokaa both hot and rain soaked. Honokaa reflects the small town charm of old Hawaii's plantation days. Our room in the Hotel Honoka'a Club (built 1908) overlooked the distant Pacific, and our Italian dinner in town was excellent.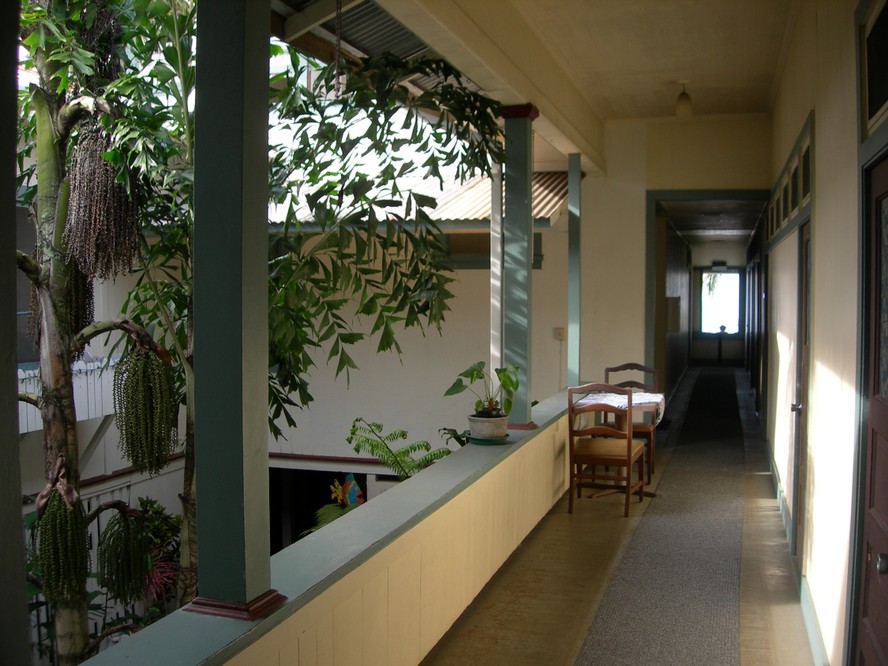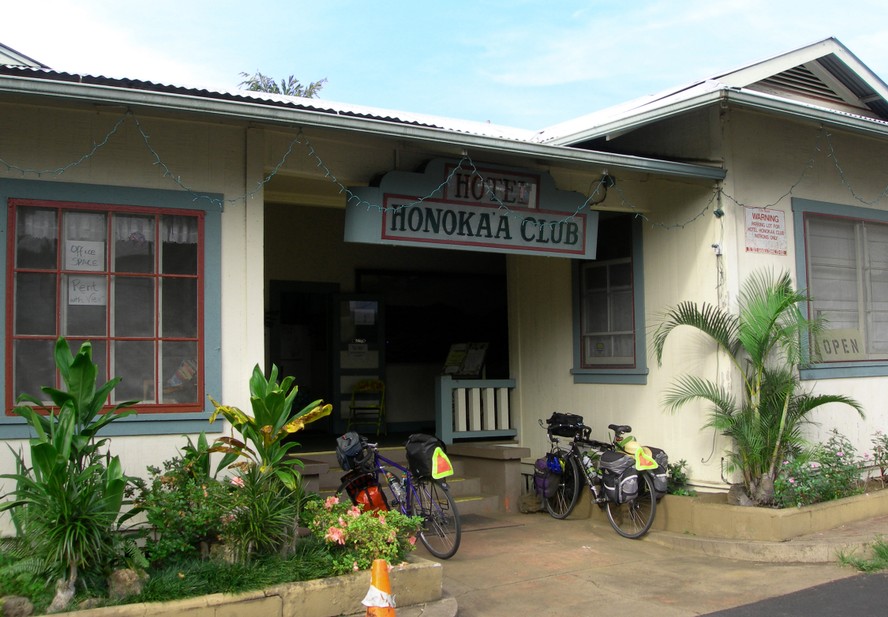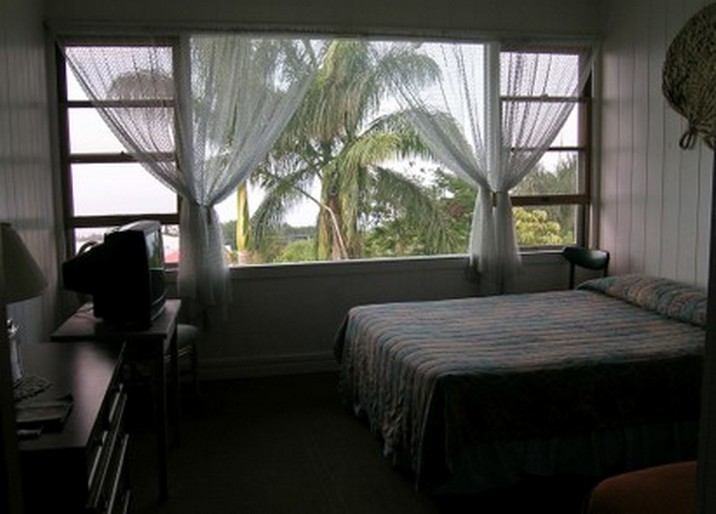 Hotel Honokaa Club, a bit of old Hawaii