March 25 - Honokaa to Waimea



Early morning at the Honokaa Saturday Market


We started up the old Mamalahoa Highway to Waimea after breakfast at Tex's open air café. This climb of 3000 ft over 16 miles took us up to the Parker Ranch cattle country in the green Kohala Mts. Again, the morning weather was sunny and pleasant. After a mile or so of slow climbing, we passed a fenced yard with a young dog in it. The dog ran along the fence, whining to get out as we rode past. We had not ridden much further before this same dog loped up behind us, obviously inspired by us to find her escape and overjoyed to consider herself a part of our adventure too. She followed us for many miles, despite our emphatic "GO HOMEs" and attempts to convince her to do so. Finally, we had to stop and become more persuasive as the pup was posing a hazard to our progress and looking quite lost. While Mike tried to undo any friendly impression and escort the dog home, I pedaled on as fast as I could to get ahead, figuring that Mike would catch up.

Just out of sight of Mike, I reached a fork in the road. Both directions looked equally important to me, and I misread the road sign, taking the wrong fork. I was not on this road long before I caught my mistake, but it was long enough for Mike, who was behind me, to get ahead of me. When I returned to the fork, I thought Mike was still behind me, so I waited a while for him to catch up. Meanwhile, Mike thought I was ahead, so he pedaled on to try to catch me.

Eventually, when Mike did not show up, I flagged down a motorist coming from Mike's direction who told me Mike was up ahead. The remainder of the way into Waimea, I sprinted to to catch Mike, and Mike sprinted to catch me. At this time in our lives, we had only one cell phone. All of this made for 2 hours of unplanned separation. We didn't reconnect until we ran into each other in Waimea, both of us looking for our each other and our destination, the Kamuela Inn. There was a lesson here, but for me, it had to do with using other sources of information other than a cell phone and calculating the likelihood of catching a slower partner who is only ahead by a few minutes, after trying for 2 hours, if indeed that partner is ahead.



Up the old Mamahaloa Hiway through Parker Ranch country to Waimea


At the Kamuela Inn, we quickly unloaded our bikes and put on hiking clothes, then biked back out of town to White Rd, and the Hamakua Ditch, a highly recommended hike. This involved climbing over a gate labeled "ABSOLUTELY NO TRESPASSING", and hiking a couple of miles through a tropical forest preserve to an overlook at the top end of famous Waipio Valley. The trail then follows a ledge along the steep upper wall of the valley. Unfortunately, by the time we got there, the valley was shrouded in thick clouds, and our view was obscured. We had to remember the Waipio Valley instead from our tour in 1994, when we had opportunity to camp overnight in it and explore it from the bottom.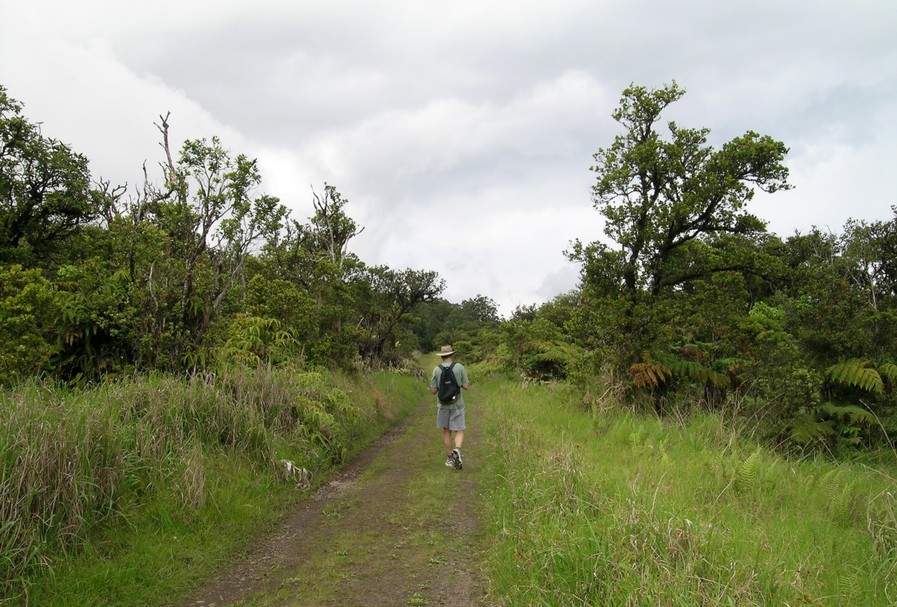 Hiking to the Waipio Valley overlook,.... over looking the clouds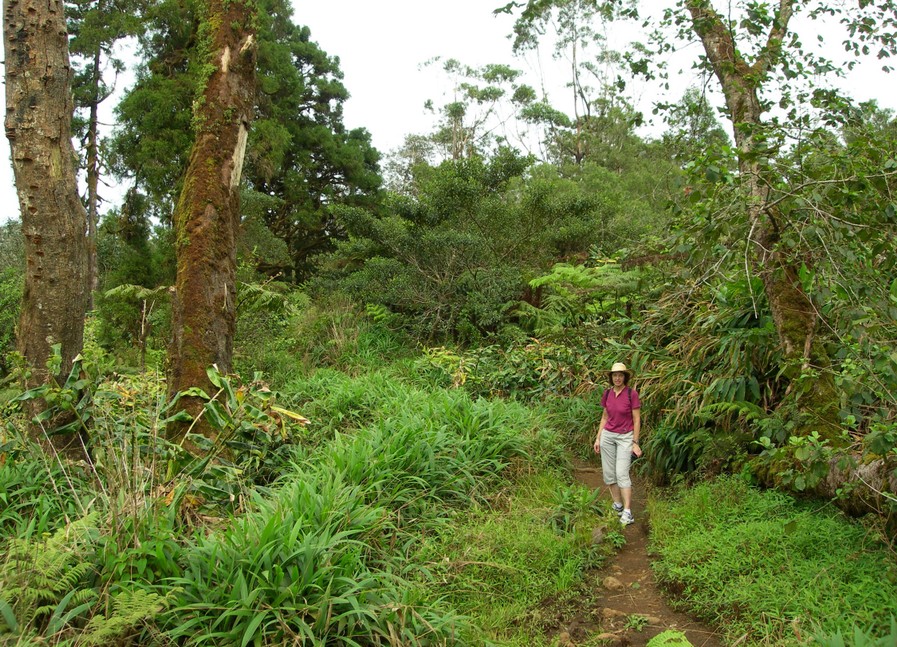 Waimea Valley overlook. Nothing to see here, folks. Move along.


Back in Waimea, we recalled staying at the Kamuela Inn in 1994 as well. So it was no surprise that our room was barely big enough for a bed and that we would have to squeeze our bikes into it too. But it was out of the rain and good enough for us.

March 26 - Waimea to N. Kohala


We got a late start in the morning, and when we did set out, we headed for the shelter of the nearby Parker Square Mall, looking for breakfast and contemplating our plan for the day. A tropical storm front was forecast for the next few days, so we sat outside the Mall and debated when, how, and where we should get the rental car (necessary for transporting the boxed bikes to the airport) to finish up our vacation. Hawaii had been experiencing unusually wet, stormy weather, and it was becoming a bit discouraging. So far, there had not been much rain in Waimea, but that was going to end soon. We contemplated the bus schedule, routes to the Kona airport, etc, and finally, decided to head directly for our next reserved accommodations in N. Kohala by bike. Leaving the cool mountain environment of Waimea and dropping back down to the coast via Hwy 19, went very quickly, although we had to contend with a blustery wind heralding the incoming storm and threatening to knock us off our bikes.




Spencer beach - popular with the locals


We took a break at the historical sites near Spencer Beach, still optimistic that we would have some good weather the next day, then turned north toward our B&B. In Kawaihae we stopped at a minimart to pick up dinner for later that evening: tuna sandwiches, chips, and beer. When I had made reservations at Hale Ho'onanea B&B in N. Kohala Estates, I had not made much notice of its elevation, 900 ft in a steep climb of 1.6 miles. This proved too much for both of us with our heavily loaded bikes. We pushed the bikes the final few yards and arrived to a warm welcome from our hosts. Our suite for the next 2 nights included a bedroom, kitchenette, living room, and outside lanai, much more elbow room than we had in Waimea. Hale Ho'onanea means House of Relaxation in Hawaiian, and we were very happy to have such nice accommodations for our last 2 nights in Hawaii. If we had to be somewhere during a tropical storm, this was the place. We relaxed on the lanai with our tuna sandwiches, chips, and beer, and watched the incoming storm front obscure the sunset over the Pacific.

March 27 - N. Kohala layover day

The rain picked up overnight and by morning, we were socked in with flash flood warnings in effect for the whole island. This was supposed to be the day in which we enjoyed the beaches on the "dry" side of the island. Originally we had planned to bike south from here, exploring the beaches on the way to the Kona airport to pick up the car late in the day. Instead, the weather was so stormy, that we decided we needed the car sooner. Our gracious hosts, Bruce and Melanie, offered to give Mike a ride the 35 miles to the airport, but Mike said that biking was "part of the adventure" and set off solo. As soon as he was down on the highway, the adventure escalated to monsoon proportions, wind whipped the palms, and rain pounded down in sheets.



Mike rode 35 miles in this tropical storm while I hunkered at the B&B


Mike had to lean into the wind or fall over, grateful for the exceptionally wide bike lanes along the highway designed to accommodate Hawaiian Ironman competitors. The rain was so heavy that a flat roadkill mongoose that was becoming part of the road surface, rinsed loose and was flushed into the ditch as Mike rode past. He made it to the airport in just over 2 hours, totally soaked. Standing at the reservation counter, a puddle forming at his feet, he stated that he needed a car. The agent took one look at him and replied, "I can see that". Mike said he'd take anything with a roof and windows. A few hours later, he was back with a Dodge Neon.

I was glad to escape being cooped up indoors, so as soon as Mike could clean up and dry off, we took off in the car to explore the quaint towns of Hawi and Kapaau to our north. Then it was back on the highway south to Kona to have dinner at a Mexican restaurant on Alii Drive. We returned to our B&B in N. Kohala for our last night in Hawaii, and spent it packing our bikes into their boxes and hoping for a little bit of sun for beach time in the morning before flying home.


Shopping and gallery hopping in the rain in Hawi



When the clouds lifted, we could see Maui in the distance



Stormy weather over our Mexican dinner in Kona


March 28 - North Kohala to Kona then home

The sun returned for our last day in Hawaii, as we had hoped! We packed up everything in the tiny Dodge Neon, checked out of Hale Ho'onanea, and headed down the highway to Kona. The Neon had to be returned to the airport, and we had to pick up a different car, a convertible, reserved earlier. It would have cost us much more if we had kept the same car for 2 days. Go figure, but we needed the convertible to get both bike boxes back to the airport.

Heading south on the highway, we could see that the recent storm had deposited fresh snow on the peaks of Mauna Kea and Mauna Loa. Our plane did not leave until 11:00 PM, so after checking in our bike boxes, we had the whole day to enjoy the coast with the rented convertible.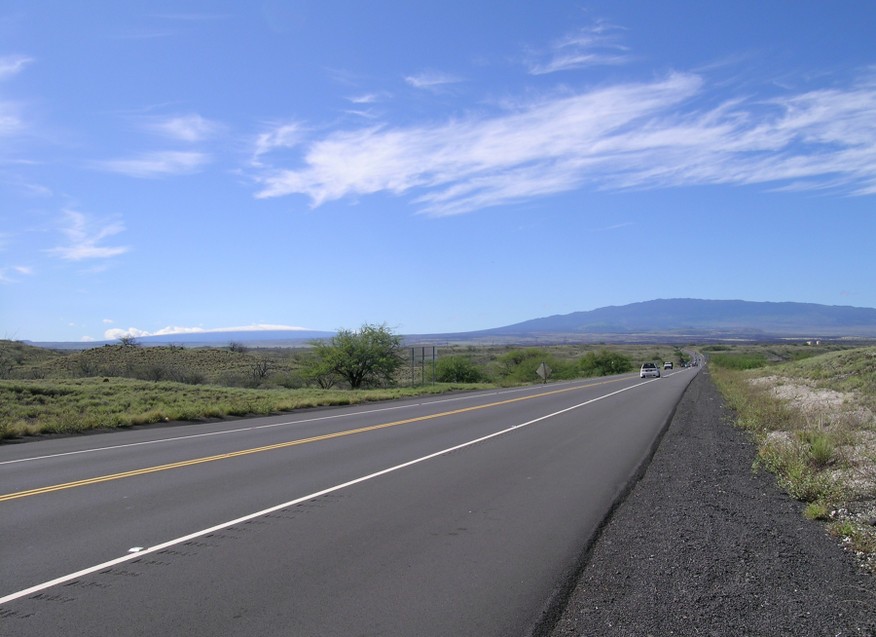 Generous bike lanes, as wide as a car lane, line the highway along Hawaii's Ironman Triathlon route.
There is also frequent signage warming motorists to "Yield to Bicycles", "Share the Road". This makes for the best higway biking conditions we have ever seen. We were told that before these upgrades, there were threats to move the Ironman competition to another island where the roads were in better condition, so the shoulders were widened to retain this economic engine.



A sea turtle hauls out to rest.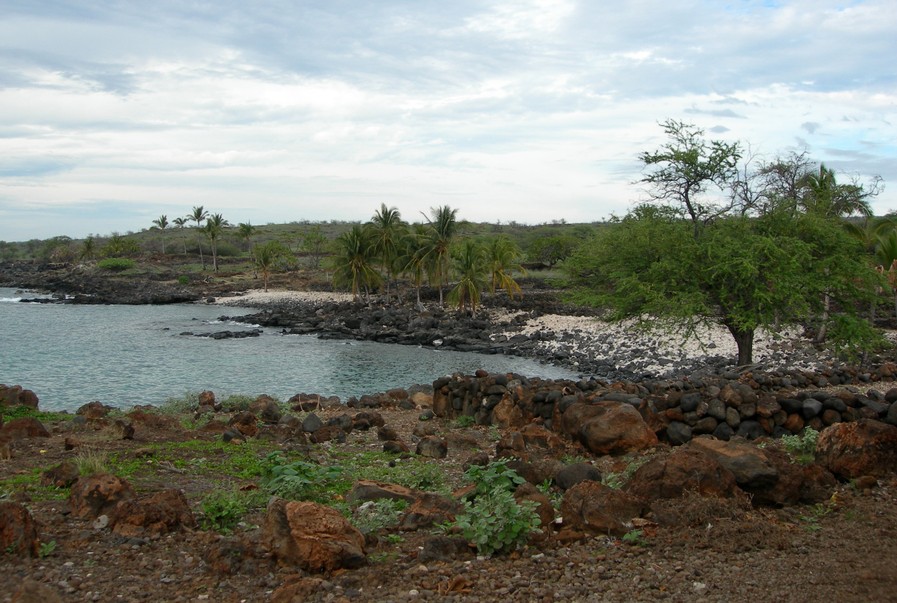 We snorkeled at this Historic Marine Preserve in the N. Kohala area


By late afternoon, we decided to visit the grounds of the expensive Mauna Kea Resort, but were turned away at the gate with the excuse that all parking was full. So we went down the road about a mile to Hapuna Beach and walked the public beach access trail back to the resort. By this time it was getting dark and storm clouds were forming again, blocking the sunset but adding drama to the beautiful white sand beach at Mauna Kea. It was even darker on the way back to Hapuna and difficult to see our footing on the rough trail, but we made it just before they closed the Park gates. Then off to the airport, and onto the plane, our hair still salty from the snorkeling.

Another great Hawaiian vacation had come to an end.