March 16 - Wenatchee, WA to Kona, HI


What a difference a day can make when air travel is involved. Our first day of vacation started in cold, early morning darkness with a tense drive through a mountain pass snow storm, and ended with a balmy cruise through Hawaii's flower scented dusk in an open top convertible. We have found that renting an economy car for 24 hours is often the most cost effective way to start or end a bicycle tour when we need to transport bike boxes to a starting point or shuttle back at the end. At the Kona airport, we grabbed a rental convertible to get our bikes and boxes to our starting destination, celebrated our arrival with a carton of Ben and Jerry's ice cream, and crashed into bed, the later two habits setting the tone for another bicycle tour.

March 17 - Kona

We made the most of our remaining 24 hrs of car rental by driving scenic backroads above Kona, browsing the galleries in the artist community of Holualoa, and finally, purchasing the requisite Hawaiian shirts at Hilo Hatties to make our transition complete. The bikes were assembled, and we were ready to go in the AM.

March 18 - Kona to Captain Cook



Beginning our tour on Alii Drive, Kona


Sometimes rituals need to be relearned - It took us a while to load the bikes due to the usual disorganization at the start of a tour. Finally we were on the road, rolling south down touristy Alii Drive, where the sun was out and the bicycling easy, with scenic overlooks and other distractions, such as the farmers market. But eventually, as can happen, we ran out of flat sea level cycling and were faced with having to climb 1000 feet in 3 miles to continue on the highway south.



Hula lessons in Kona


Early in a bicycle tour, I am not usually hardened to hill climbing with a loaded touring bike. During one of the few miles I was actually on my bike climbing as slowly as a bike can go without falling over, I tried to release my shoe from the pedal to stop, and the cleat would not release. This was a reminder as to why I had never clipped in before on bicycle tours. I was stuck in the pedals and forced to keep pedaling uphill or fall over, my legs starting to quiver. Seeing my predictament, Mike jumped to the rescue, flung his bike in the ditch, sprinted on foot to catch up to me, and grabbed me like a rodeo cowboy so I could get off the bike. I was impressed and grateful. I am giving up on the cleats but taking Mike on all future tours.

Our sunny weather turned to rain so that we were soaked by our destination, the historic Manago Hotel in Captain Cook. We settled into our room and had the Manago's specialty for dinner; fresh ahi, sticky rice and Japanese side dishes. Only a day on the road, and we had had sun and rain, ups and downs, fixed a flat tire on the rear wheel, taken refuge from a rain storm in a carport, broken another kick stand, and finished off the evening at the ice cream parlor next door. Ah, bicycle touring, the memories of previous tours came back.



Manago Hotel, Captain Cook


March 19 - Captain Cook to Ocean View

Rain, rain, rain all night and continuing this morning. We woke up to a downpour, thick fog obscuring our ocean view. Over breakfast in the Manago dining room, we contemplated options – if the weather should be like this for 2 weeks, should we continue riding, return to Kona and get a rental car, or try to get a lift to our next destination on the island bus, the Hele-on? Our hotel, being "historic", did not have phones nor TVs. This made finding out the weather forecast challenging, but eventually we learned - bad weather was forecast throughout the week, if not our entire visit. It was decided to continue on by bike, mindful that involving a car completely alters the experience, and not always for the best. So we headed out in the rain and headwind. The hardest part of riding in the rain is getting started and leaving behind a dry shelter.


Refuge from the rain with free Kona coffee samples - just what we needed


After about 20 wet and foggy uphill miles, we caught up with a couple of other cycle tourists who were part of a small group touring our direction. They told us that heavy rains had washed out part of the road ahead, blocking access to their next destination. They were forced to return to Captain Cook to find accommodations, but we had reservations before the wash out, and the road was supposed to reopen the next day once a downed power line was cleared. We rode on.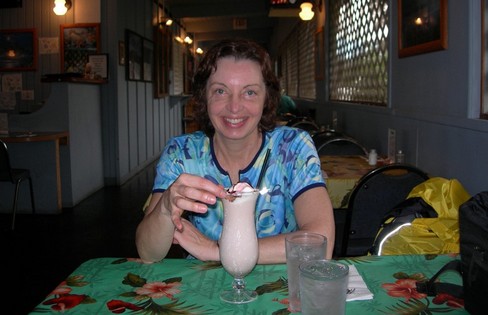 The sun was breaking through again when we arrived at Bougainvillea B&B, located in Ocean View, a sparsely populated housing development on a lava flow. We had stayed at this B&B in 1994 and found it a welcome and conveniently located retreat, although we were impressed that anyone would chose to build their home on a lava flow. All water must to be trucked in and tap water is unsafe to drink. The lots were a bargain at $500/acre when the area was "developed" in the mid1960s, though few have bought into it since.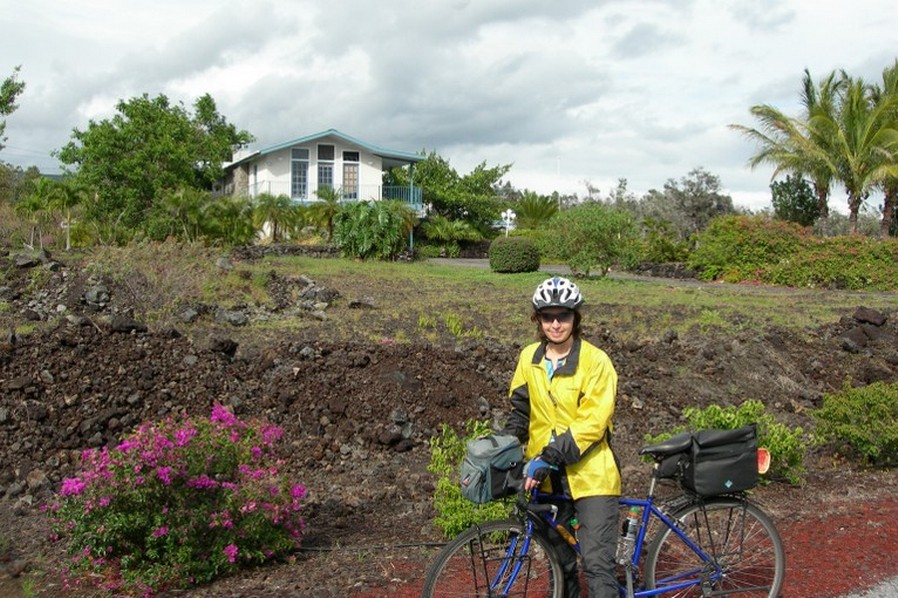 Bougainvillea B&B

We found a small diner open nearby for dinner. I had a BLT and a chocolate milkshake, and afterwards, I was chased by a dog. Only two days on the road and we had just about covered all the familiar habits. As we soaked in the hot tub after dark, an opening in the cloud cover revealed a night sky thick with stars, unpolluted by city lights, billions of miles from our island in the middle of the Pacific Ocean.

March 20 - Ocean View to Pahala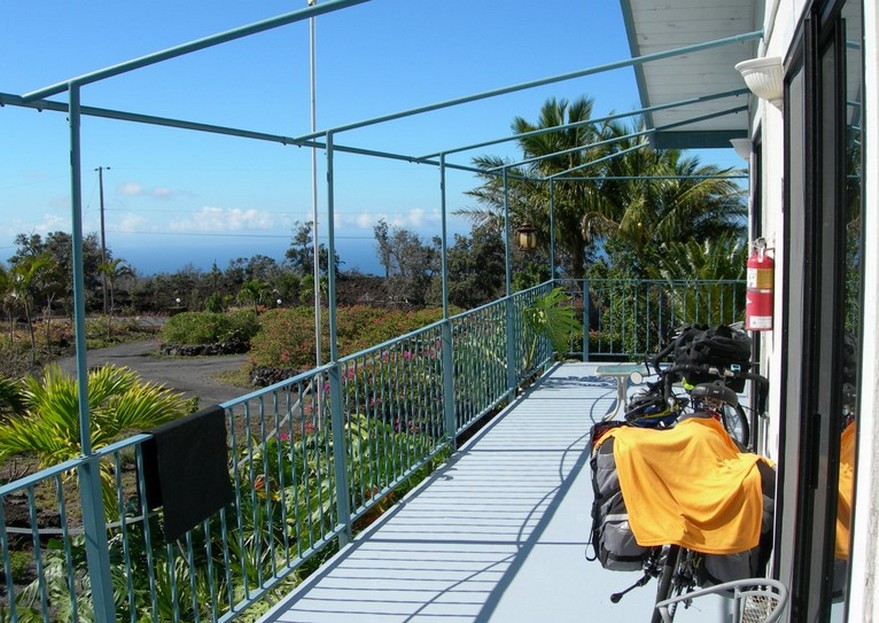 The sun was back out in the morning for breakfast on the B&B lanai. Our hosts, Martie and Don, served up a breakfast of fresh Hawaiian fruit and omelets while we visited with other guests. Our route for the first half of the day took us through lava flows, macadamia farms, and agricultural country. In the small town of Na'alehu, we caught up with the other group of cyclists and joined them for lunch at the self-porclaimed most southern café in the U.S. This van-supported group included Jim, Marty, Dan and Barbara, with their organizer, Tim Kneeland, a well-known bicycle event organizer from Seattle, organizer of the Odyssey 2000 bicycle tour around the world, and now founder of Four Seasons Cycling Events. They had many bicycle touring stories, and we enjoyed their company, agreeing to meet again for dinner at our common destination in Pahala.



Mural depicting Hawaiian history, general store near Na'alehu



"Lunch" at the cafe in Na'alehu


From Na'alehu, our route followed the spectacular undeveloped Ka'u coastline, dropping 1000 feet in elevation to the black sand beach at Punalu'u.


Panoramas of our route, the scenic Kau coastline


At the beach, several large sea turtles were grazing in the tidal pools near shore when we arrived, and farther down the beach, a small group of native Hawaiians was performing a ceremony involving blowing into conch shells, singing and prayer.


Black sand beach at Punaluu


We were soaked in sweat again after pedaling uphill the remaining miles to the old sugar plantation town of Pahala, where we had rented a vintage 1920s cottage for the night.

The rest of the cyclists were staying at the historic Pahala Plantation House and had planned a large group dinner, inviting us to join them. Their hosts had prepared a feast - fresh corn, squash, garden greens, pasta, bread, shrimp, lamb, and chicken, and for dessert, macadamia pie and ice cream. A good supply of wine and beer augmented the story telling, and the group adopted us as if we had signed on to their tour. The fun evening concluded with a video highlighting the ongoing efforts to prevent developers from destroying the unique beauty, native heritage, and wildlife of this section of Hawii's Ka'u coastline.



Dinner with Tim Kneeland's tour group at the Plantation House