As we prepared to hit the road again, we met Holger Andersen, a Danish teacher and cycle tourist going our way. Holger is one of many bicycle tourists writing an online journal too, but he is carrying an 8 lb laptop, and a cell phone/modem arrangement, which he discovered to his dismay, does not work in the U.S. "I wouldn't want the trip to be too easy," he said. He tries to ride 100 miles/day, and plans to end his cross country trip in California, by riding across Nevada's Loneliest Highway in July or August. That should make the heat and challenges we have had so far seem minor.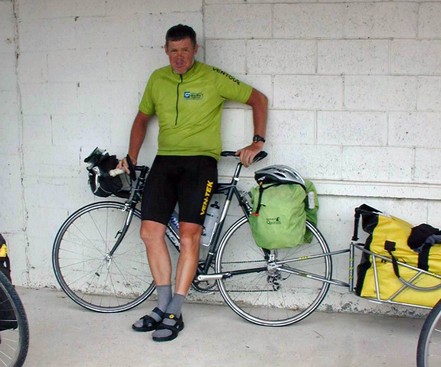 We agreed to ride together the remaining 20 miles into Houston, so we set off in a pace line, hoping to make good time so we could get to the post office before it closed and collect our camping gear. Drafting in a pace line did help overcome the strongest headwind we've had so far, but even though I tried my turn at pulling, my puny legs could not maintain the pace set by two strong male riders, so I eventually fell off the back. Mike and Holger stoked on ahead for a while, even though I tried to communicate nonverbally with Mike using his rear view mirror and a universally understood gesture. Eventually they slowed down, and I caught up.

Holger said the countryside, once out of the mountains and into rolling farmland, was reminiscent of Denmark. I thought it was very beautiful especially when the sun returned, with the wind blowing through the wildflowers and tall grasses. But pace line riding is not conducive to picture taking. We did not make it to town before the post office closed, but we got a motel room next to Holger's, and after dinner, he knocked on our door and presented us with a couple of beers to share as a friendship gesture.

It is always interesting to share stories and impressions of our country with other cyclists. The economic depression witnessed in southern Appalachia always comes up in discussion. The extremes of wealth and poverty witnessed in America are unfamiliar to many Europeans from more socialistic countries. Holger also acknowledged that when a man and woman travel by bicycle together, there is almost always the physical discrepancy in strength and pace to deal with, unless they are on a tandem. This is something that hasn't gone unnoticed by me, but maybe there are advantages to my company in some other way. I'll have to ask Mike.